EVERY NOW AND THEN IN LIFE, YOU MEET SOMEONE NEW RATHER UNEXPECTEDLY. THESE CAN BE WONDERFULLY INTERESTING CHANCE MEETINGS. I RECENTLY HAD ONE OF THESE WHEN I WENT TO AN EVENT FOR THE MEMBERS OF THE CONTEMPORARY FORUM AT THE PHOENIX ART MUSEUM.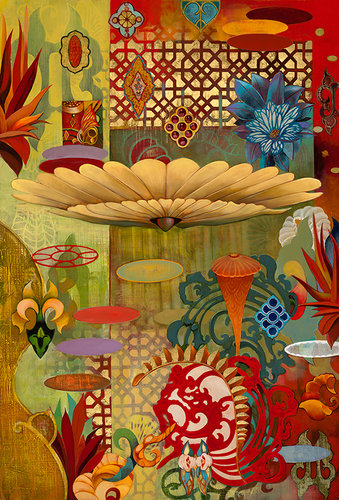 I HAD FOUND AN EMPTY SPOT TO LISTEN TO THAT NIGHTS SEMINAR AND WAS GETTING SETTLED WHEN THE PERSON NEXT TO ME AND I STARTED EXCHANGING PLEASANTRIES ABOUT THE DAY AND THE EVENT.  THAT WAS SHORT LIVED, AS THE SEMINAR STARTED UP AND WE BOTH TURNED OUR ATTENTION TO IT.  AFTER IT CONCLUDED, WE PICKED UP THE CONVERSATION AGAIN, BUT THIS TIME IT WAS ABOUT THAT EVENING'S TOPIC, "HOW TO TRAIN AN ARTIST". WE SHARED MANY OF THE SAME IDEAS AND UNDERSTANDINGS ABOUT WHAT IT MEANS TO MAKE A LIVING AS AN ARTIST, ME AS AN INTERIOR DESIGNER/ARTIST AND SHE AS A FINE ARTS PAINTER. IT TURNED OUT I WAS CHATTING WITH BARBARA ROGERS FROM TUCSON, ARIZONA! 
WHAT A DELIGHTFUL PERSON SHE WAS AND WHAT A FASCINATING CAREER SHE HAS LED.  YOU MIGHT HAVE CAUGHT HER WORK AT THE TUCSON MUSEUM OF ART WHERE SHE WAS RECENTLY FEATURED IN AN EXHIBITION, BARBARA ROGERS: THE IMPERATIVE OF BEAUTY, A FIFTY-YEAR RETROSPECTIVE. I'M SO THRILLED TO HAVE MET HER AND WANTED TO SHARE THE RICHNESS OF HER WORK WITH YOU. IF YOU DIDN'T GET A CHANCE TO SEE HER EXHIBITION, YOU CAN SEE HER WORK AT HER WEBSITE: BARBARA ROGERS ART AND ALSO AT THE GEBERT CONTEMPORARY GALLERY HERE IN SCOTTSDALE, AZ.  I REALLY DO ENJOY BEING SURPRISED BY WHAT LIFE CAN GIVE YOU AT THE MOST UNEXPECTED MOMENTS.